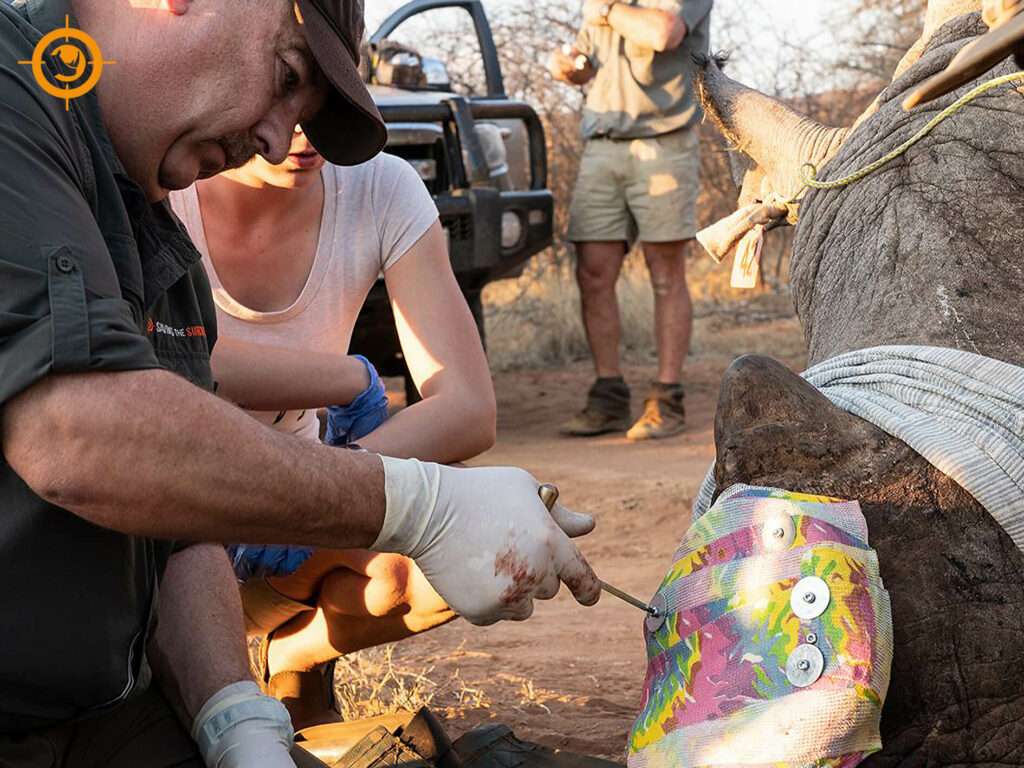 Category: Southern White Rhino
Harvey The White Rhino Brutally Poached
Unfortunately another tragic case of a poaching. Like many before him, a Rhino with horrific facial injuries after a brutal poaching.
Saving the Survivors faced a race against time to save Harvey, a young White Rhino bull who was poached only a few days ago and had his front horn hacked off.
Dr Johan from the STS team attended to him, while the other vets kept him under immobilisation. His wound was badly infected, and there were also some sticks and leaves in his sinuses. This was all removed and cleaned. Carefully his wound was dressed with the appropriate dressings, and then covered with fibreglass, that acts as a bandage. We are confident his wounds will heal, although we will need several visits to attend to him to treat and cover his wounds.
We will keep you informed on Harveys progress.
Finally, thank you to our sponsors Ford WildLife and Craghoppers
How can I support Harvey the poaching victim?
Remember that our work is only possible with your support. Please donate to ensure that we are always on hand to tend to Africa's most special species. You can support our work by becoming a monthly or one-off donor. With your help we are able to help every injured animal in need. Please help us to do more great work like this, and save the Rhino from extinction. Donate here.
You can also support us by following us on social media. Share our stories to give these vulnerable animals a voice. With your help we can raise awareness of the issues these animals face and make a change, creating a more positive future for them. Check out our other supporters views on facebook. Check out our instagram here.
Thank you from all of team Saving The Survivors for all of your support!