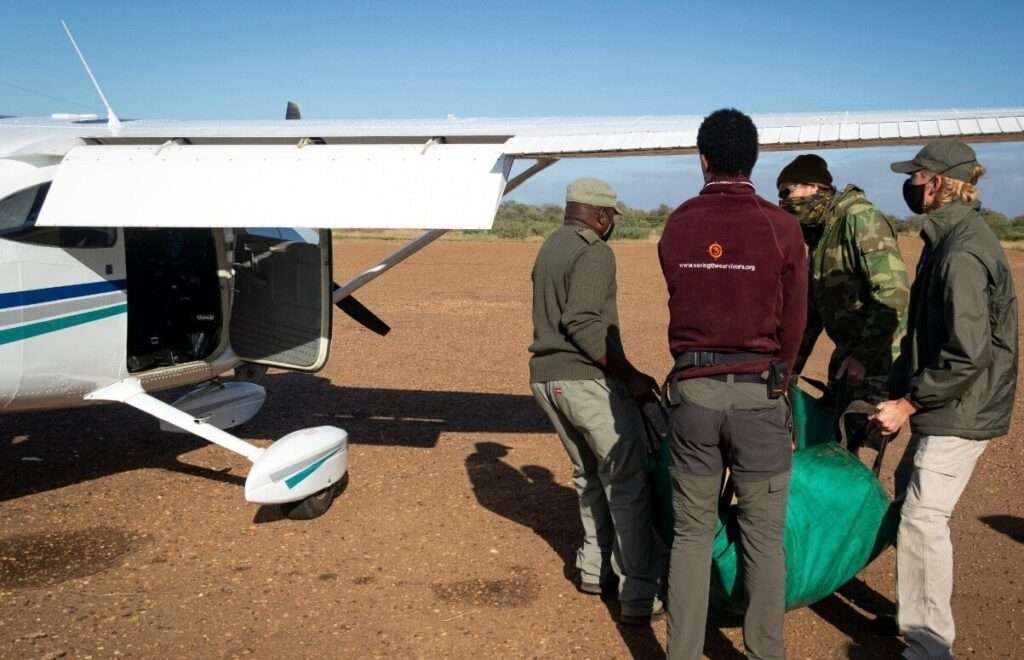 Category: Lion
Flying a Lion 800kms across Mozambique's beautiful wild landscape
Last Tuesday at exactly 7.00am the Mozambique STS team immobilised the Lion for the last time in the 3 week long translocation process.
With the assistance of Karingani Game Reserve staff the Lion was loaded onto a vehicle and taken to a nearby airstrip where a small Cessna 182 was already waiting and ready to take off.
A few checks and procedures later the giant wild cat was transferred to the back of the plane and with just the pilot, the Lion and Dr. Joao onboard, the air leg of the journey began.
Keep watching for further instalments on this story.
Thank you to all our supporters, especially Karingani and Administração Nacional das Áreas de Conservação for their collaboration in this project.
Why are Lions so important?
Lions are keystone species, meaning the have great influence over their habitats.  They effect their ecosystems in many ways. In particular, due to them being apex predators, meaning they have no natural predators. This means they play a crucial role in maintaining healthy populations of their prey. This is due to them preying on the sickest, oldest and weakest members. They are capable of taking down large herbivores such as Elephant. Without Lions, herbivores would over consume food sources. This would result in unbalanced ecosystems.
How can I help to protect the Lion?
Remember that our work is only possible with your support. Please donate to ensure that we are always on hand to tend to Africa's most special species. You can support our work by becoming a monthly or one-off donor. Please help us to do more great work like this, and save the Lion from extinction. Donate here.
You can also support us by following us on social media. Share our stories to give these vulnerable animals a voice. With your help we can raise awareness of the issues these animals face and make a change. Check out our other supporters views on facebook. Check out our instagram here.
Thank you from all of team Saving The Survivors for your support!