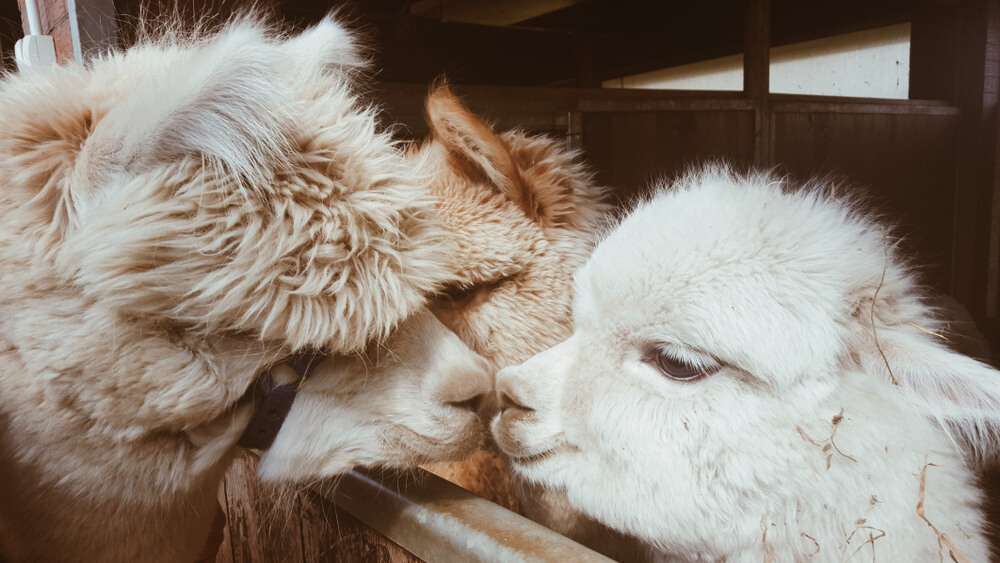 Category: Related Work
Fun Facts About Baby Alpacas (Cria)
Alpacas are often referred to as "lama pocos", or small llamas. This is understandable since they both come from the camelid family. But that's pretty much where the similarities end.
Unlike other camelids, the alpaca breed is known for its calm nature. Yet that doesn't stop them from always being watchful of everything going on around them because they tend to scare easily.
Overall, however, alpacas are quite the social bunch. You can pet them and feed them without worrying about getting bitten or kicked. And maybe they'll even plant a kiss on your nose.
We've made a list of 10 fun facts about baby alpacas. Keep reading to find out more about these gentle creatures and their babies.
10 Fun Facts About Crias.
Alpacas breed once a each year. Their gestation period lasts from 242 to 345 days, roughly 11 months. They only carry only one offspring at a time.
Crias are generally born in the spring between May and September. Alpaca mothers tend to give birth during the day. This gives time for the baby to begin suckling before night time when temperatures drop.
At birth, a baby alpaca, also known as a cria, weighs from 6 to 8 kg. As adults, they can weigh up to 70 kg.
Crias can stand up shortly after birth. The fact that these cute babies can stand on their own so early in their lives demonstrates their resilience. At the same time, you'll rarely find alpacas, big or small, wandering off by themselves. If they do, they won't stay away too long on their own.
Alpaca milk is lower in fat and salt than cows milk. It's also higher in calcium and phosphorus. Because of its low fat component, crias need to suckle frequently to boost their growth.
A cria will stay by their mother until it's weaned, which is around 5 to 6 months. Since alpacas are herbivores, crias start grazing as soon as they're weaned. They eat grass, leaves, and even bark.
Similar to their ruminant counterparts, their stomachs are divided into three chambers. This efficient digestive tract breaks down food to produce the fatty acids and nutrients that alpacas need.
A female alpaca, called hembra, is ready to reproduce when she's between 12 to 15 months.
Males are known as 'machos'. They're ready for mating by the time they reach 30 to 36 months. That's the age when farms start offering alpaca studs for sale to breed or keep as pets.
Alpacas can live up to 20 years. They come in about 22 recognised colours. While most alpacas come in solid colours, some have blends and colour variations.
Alpacas are known to be gentle and mild-mannered. Even though they're curious and love exploring on their own, they get scared easily. That's why they prefer the companionship of other alpacas. When alpacas feel wary or frightened, they'll usually huddle and move as a group.
If you hear an alpaca hum, it could be because they're relaxed and content. After birth, both baby and mother hum repeatedly. They also make a staccato clicking or snorting sound to let others know there's potential danger nearby. It can also signal discomfort or restlessness.
Alpacas are the docile and adorable animals of the farm world. They're also extremely sensitive and quite intelligent. The sounds they make communicate certain messages and relay their emotions and fears.
All these unique features make alpacas highly prized cattle and pets worldwide.