Category: Southern White Rhino
Thembi The White Rhinos 4th Treatment
Thembi first came to the attention of Saving The Survivors in late 2017. She had been poached in 2010 and had been left untreated with horrendous injuries. This is our 4th visit to treat her.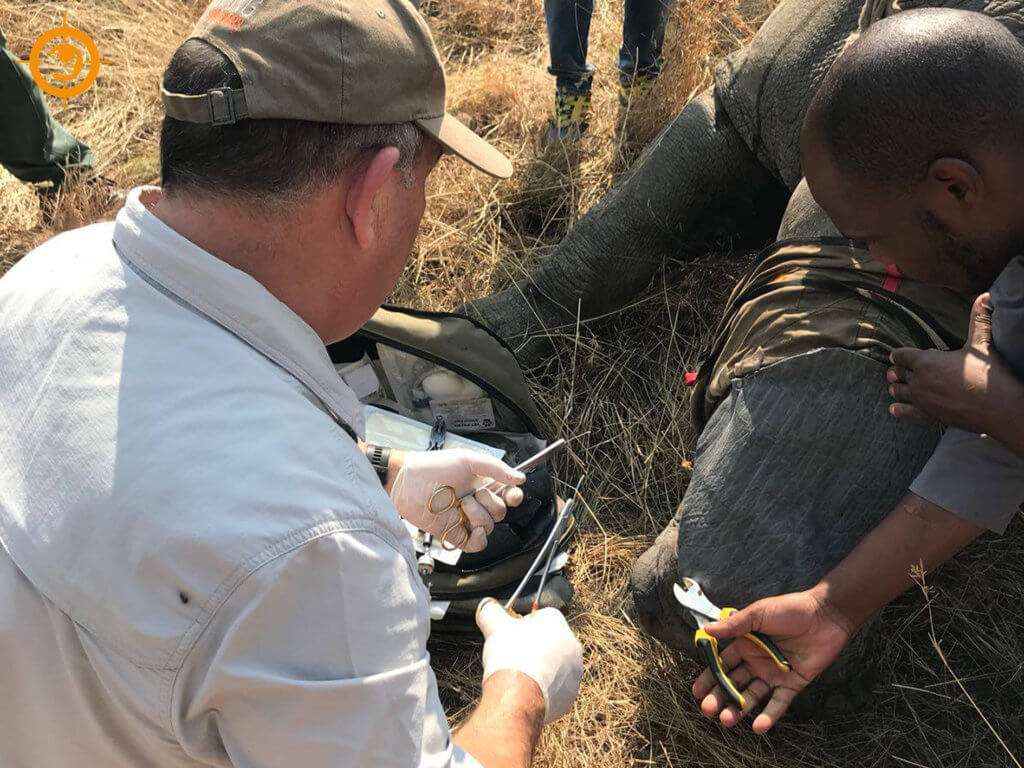 Thembi who had her beautiful young calf in tow. They both were darted to prevent mother and calf being separated. We cleaned her wound, antiseptic and antibiotics were applied. Next we stitched Elephant leather over the wound to help protect the area.
Dr Johan reported he was very happy with the progress and he felt given it had been just 9 months since the first treatment the wound had made significant steps in the healing process.
It was wonderful to watch mother and calf happily reunite after Thembi was brought back around!
It is going to be a long recovery for Thembi and we couldn't continue to treat her without your donations.
How long are Rhinos pregnant?
The gestation period varies slightly depending on the species of Rhino. White Rhinos are pregnant for approximately 16-18 months. This is slightly longer than their Black Rhino relatives who are pregnant for 15-16 months. The only other animal with a longer gestation period is an Elephant, who are pregnant for around 2 years!
How long will a baby Rhino stay with its mother?
A baby Rhino is called a calf. They will stay with their mother for the first two to three years until the next calf is born. Calves are heavily reliant on their mothers at a young age for food warmth and protection from predators.
Why are Rhinos so important?
Rhinos play an important part of our ecosystems and without them these environments would not be the same. Rhinos are keystone species meaning they greatly influence their habitats. One way in which Rhinos do this is by wallowing in muddy puddles. This allows watering holes to stay open, allowing not only Rhinos but all species access to water.
The act of wallowing also has a positive impact on the surrounding soils making them more fertile. This is due to the mud drying up on their skin and falling off in the surrounding environment. This mud is fertile alluvial soil which spreads far and wide with the Rhinos movements. This enriches soils allowing for flora species to thrive.
How can I support Thembi and other White Rhinos?
You can support Thembi by donating today. This will ensure that we are always ready to treat her injuries and the injuries of those like Thembi who suffer poaching attacks. Please help us to do more great work like this, and save the Rhino from extinction. Donate here.
You can also support by following us on social media and sharing our stories to give these animals a voice. Check out our facebook and instagram here.