Category: Southern White Rhino
Another successful rehabilitation and release of a poaching survivor
This subadult White Rhino female sustained a gunshot wound in a failed poaching attempt and was severely lame. She was treated with antibiotics and a cast, and a mere 2 months later, the fractured healed adequately for her to be released into the wild again.
Over the last couple of years the STS veterinary team has been on the forefront of developing new and innovative treatments for injured wildlife. This is especially true Rhinos, who are unfortunately the usually patient our team tend to. This is due to the high value of their horns, making them attractive to poachers. 
We were the first organisation to apply casts on more than 20 Rhino for injuries like gunshot wounds and fractures. While it was not plain sailing in the beginning, the team refined the casting process over several months, to be able to cast even adult Rhino now very successfully.
Thank you so much for all your support in helping this Rhino poaching survivor. This enables us to develop these therapies and treat these iconic animals.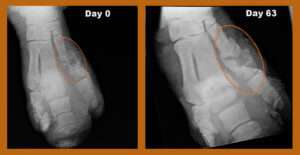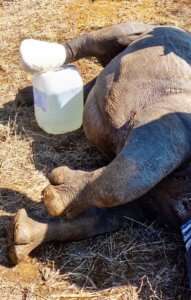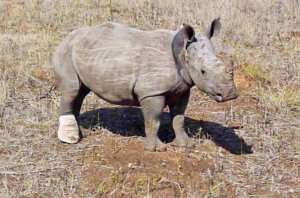 How can I support Saving The Survivors?
Please donate if you can to ensure that we are always there to answer that call and doing all we can to protect the remaining Rhinos. You can support our work by becoming a monthly or one-off donor. Please help us to do more great work like this, and help us save every poaching survivor. Donate here.
You can also support us by following us on social media. Share our stories to give these vulnerable animals a voice. With your help we can raise awareness of the issues these animals face and make a change, creating a more positive future for them. Check out our other supporters views on facebook. Check out our instagram here.
Thank you from all of team Saving The Survivors for your support!