Category: Southern White Rhino
Dr. Johan Attends to Injured White Rhino
Searching for a needle in a haystack – that is what the STS team did recently. Dr Johan was called out to attend to a White Rhino. It appeared this cow had an injury to her backside of unknown origin.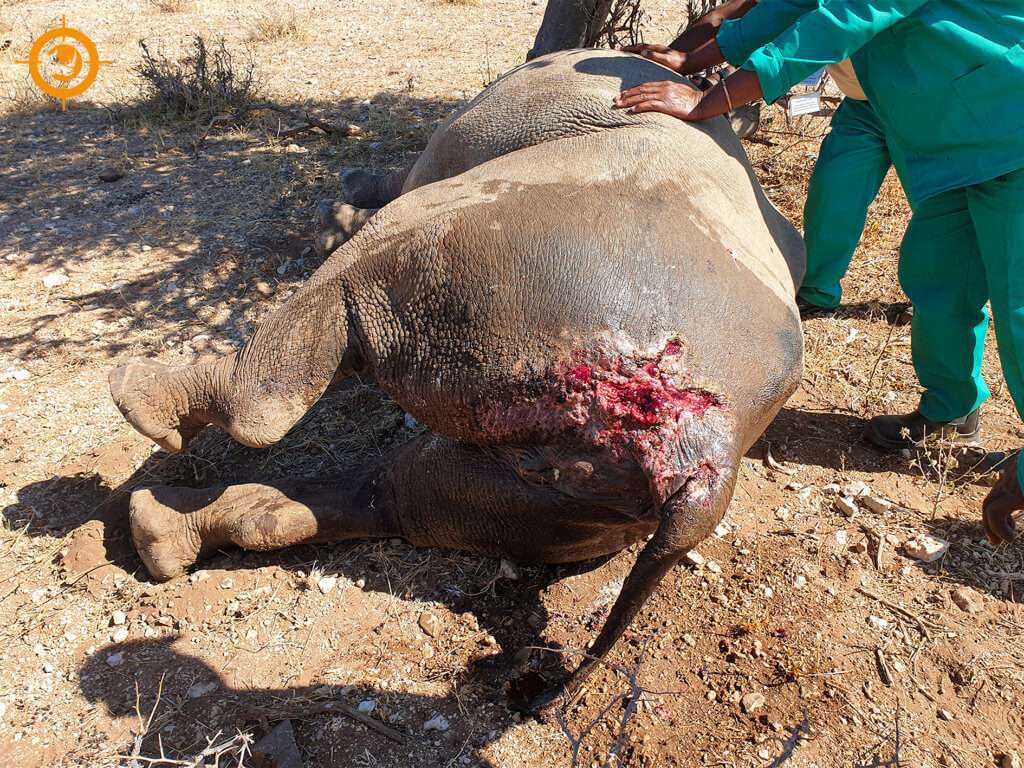 There are several White Rhino on this large reserve. We managed to see all of them, except this injured cow and her calf.  Eventually after 3.5 hours of flying trying to spot her, we managed to find her and the calf under a tree!
While she was immobilised and Dr Johan worked on the wound, the calf was kept at a safe distance by the reserve staff.  Due to oxpecker birds constantly irritating the wound and keeping it from healing, we decided to cover it with a bandage. We used the trustworthy Elephant leather, sourced from a taxidermist.  Now the proud owner of a piece of Elephant skin on her buttocks, we woke her up. We will monitor her in the weeks to follow to see how she responds to her treatment!
As ever, thank you to our partners at Ford Wildlife Foundation and Craghoppers.
Your donations enable us to carry out these treatments of injured wildlife. Please continue to support our work by donating now.
How can I support Saving The Survivors?
Remember that our work is only possible with your support. Please donate to ensure that we are always on hand to tend to Africa's most special species. You can support our work by becoming a monthly or one off donor. Donate here.
Alternatively, follow us on our social media and share our stories to give these vulnerable animals a voice. With your help we can raise awareness of the issues these animals face and make a change, creating a more positive future for them. Check out our other supporters views on facebook. Or check out our instagram here.