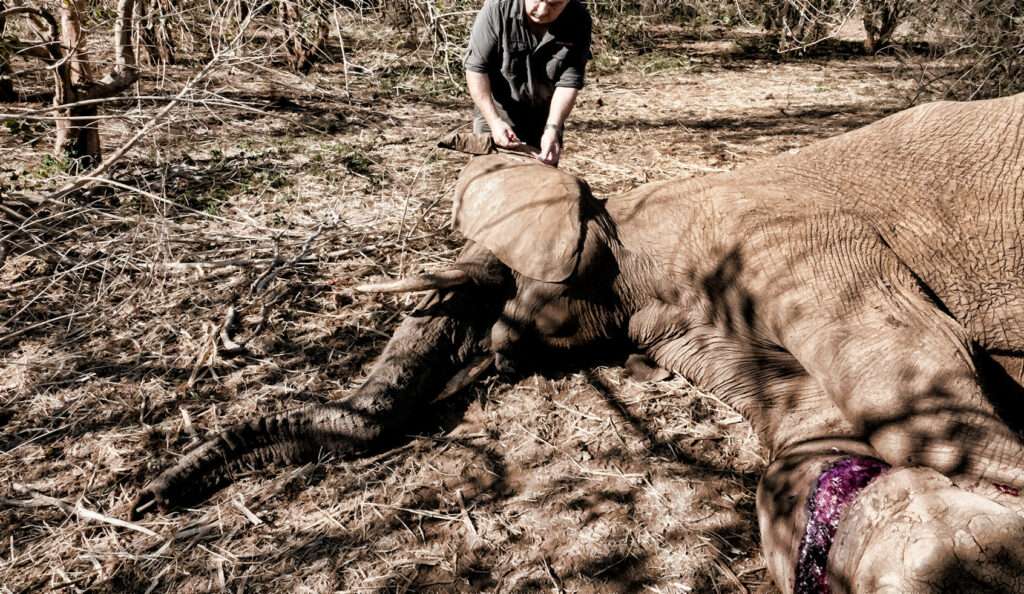 Category: Elephant
Dr Johan comes to the aid of a Young Bull with a nasty snare wound
Snares are a real and present danger in reserves in Africa today. The majority of the cases Dr Johan and the STS team work on are related to poaching. This includes injuries caused by snares and gin traps.
A typical snare is no more than a length of wire with a looped end formed by a slipknot. They are aimed to trap animals which are then used for bushmeat or sold to markets. They indiscriminately catch animals, meaning all wildlife are in danger. Once the animal is trapped, the wire tightens as they try to free themselves. This cuts the animal where they have been trapped, or causes strangulation if around their necks.
Tourists spotted a young Elephant Bull walking with great difficulty and a severely swollen limb. With the expert assistance of the local rangers, The STS team in South Africa Located the Bull a few days later in thick bush.
The gentle giant was swiftly immobilised by Dr. Johan and a typical cable snare was found wrapped tightly around the Elephants lower leg. An injury that sadly we are very familiar with.
The snare was removed and the wound cleaned and treated with medical grade honey to give long lasting, durable and natural defence against further infection. Once the Doctor was happy for the young male to return to the wild, he was woken up. He will still walk with some effort for a short time, but gradually the infection will clear up and the wound will heal.
This is another example of your donations enabling STS to Create Hope from Hurt. Please support our work protecting Africa's remaining Elephants by clicking the "DONATE" button.
Thanks again to the invaluable assistance of the ever watchful Rangers!   
Want to help STS in another way?
You can support us by following us on social media and sharing our stories. This gives these vulnerable animals a voice, and a greater chance at survival. You can see what our supports think and share your own views. Click here for our facebook.