Category: Southern White Rhino
Race to save a magnificent Southern White Rhino Bull
A few days ago, a Southern White Rhino bull with a beautiful intact horn was seen by anti-poaching teams walking among 6 previously dehorned Rhinos. This makes him an obvious target for the well organised Rhino poaching syndicates known to be operating in that area.
STS Mozambique veterinarians Dr. Joao and Dr. Hugo quickly put together the necessary team and equipment to perform the complex procedure.
Dehorning a Rhino is never a nice thing to do, as we would all love to see animals wild and intact. But, this will be no worse for the animal than a human cutting their finger nails or hair and it may well save this Rhino's life. This is because he will no longer be so attractive to poachers.
Everything went smoothly and the Southern White Rhino bull rejoined its group soon after with a safer look than before!
In October 2019 the Mozambique Government approved the Dehorning of a significant component of its Rhino population as an extreme but necessary measure to protect them. STS Vets in Mozambique in coordination with ANAC have been leading this effort by planning and executing the national capture and dehorning operations.
We would like to thank all our partners in this project – Administração Nacional das Áreas de Conservação, Karingani, Sabie Game Park – Mozambique, Mr. Guillermo De Las Heras for his generous donation and Jo Taylor for the brilliant photographs. And as ever, Ford South Africa and Craghoppers.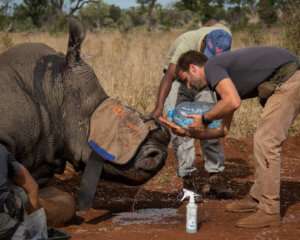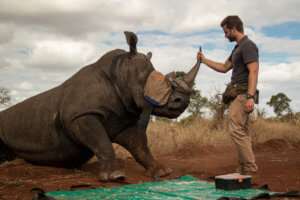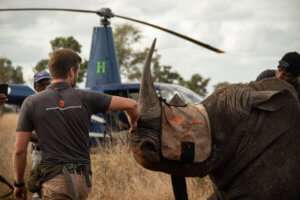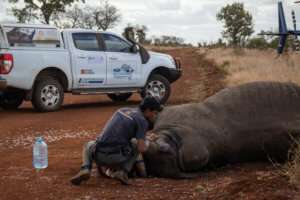 How Can I support Saving The Survivors?
Please donate if you can to ensure that we are always there to answer that call to protect remaining Rhinos. You can support our work by becoming a monthly or one off donor. Please help us to do more great work like this, and save the Rhino from extinction. Donate here.
You can also support us by following us on social media. Share our stories to give these vulnerable animals a voice. With your help we can raise awareness of issues and create a more positive future for wildlife. Check out our other supporters views on facebook. Check out our instagram here.
Thank you from all of team Saving The Survivors for your support!