Category: Southern White Rhino
Rhino poaching Survivor "Thandi" has new Baby boy!
credits to Kariega Game Reserve and Dr. Johan Marais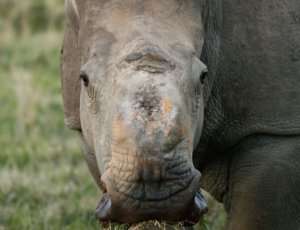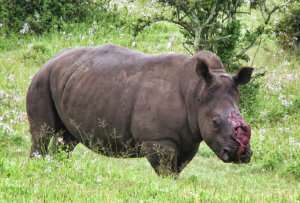 Thandi was one of the very first Rhinos that we saved back in 2012. She and a Bull Rhino had their horns brutally hacked away by poachers and were left for dead.
A local Veterinarian Dr William Fowlds immediately tended to both Rhinos but sadly the male was lost. We then managed to treat the female Rhino, Thandi, who made an amazing recovery and against all odds, survived. This would not have been possible without the unwavering commitment of Dr Johan's care.   
Since her ordeal in 2012, Thandi has gone on to make a full recovery, with her facial injuries healing beautifully as you can see for yourself.
Thandi's latest calf is actually her 4th since her poaching attack, which is amazing proof that our work saving the survivors of poaching really is an effective method of endangered species conservation. Her genetics, as well as her four calves, are vital for ensuring the conservation of the species.
If Thandi's 4 calves weren't enough proof that our efforts work, last year, her first daughter even had a calf of her own! Making Thandi a Grandmother!
The little baby Rhino will stick closely to his mothers side for food, warmth and protection. Baby male Rhino's tend to leave their mothers at around three years old or until another calf is born. Although rangers will be keeping a close eye on them both throughout their lives. 
Thank you to Kariega Game Reserve for protecting and caring for Thandi and her growing family! Conservation is about collaboration, we all have a part to play and we will win if we fight together!
Support our work, save the Rhino
Please support us by donating here. Your donations allow us to continue fighting on the frontline for the conservation of endangered animals.