Category: Elephant
The Banhine Elephant Bull
Almost a year ago STS and Administração Nacional das Áreas de Conservação joined forces with Peace Parks Foundation and Elephants Alive to deploy the first ever Satellite collar on an Elephant. This was achieved on an Elephant bull in the remote Banhine National Park in southern Mozambique.
The complicated landscape and dense forest made fitting the collar extremely challenging. Unfortunately, when darting the Elephant bull, he went down in a life threatening position. With only a few minutes to work on him the team decided to "half tight" the collar and wake up the sleeping giant ASAP.
Over the past year the "Banhine bull" travelled huge distances across 4 different protected areas and 2 countries!
Finally, last week Dr. Joao managed to organise a helicopter to re-dart the Elephant bull in Limpopo National Park and refit the collar properly. This is to ensure the Elephant's travels are studied and recorded for land use planning and corridor protection between the several components of the Greater Limpopo transfrontier Conservation area (GLTCA)
Thanks to ANAC, EA, PPF and pilot James Shuen for their continued support and collaboration in this project and ongoing Elephant conservation projects.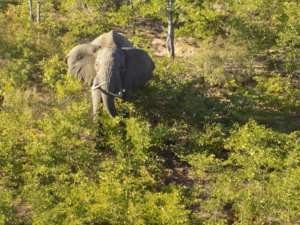 Why are Elephants important?
Elephants are keystone species. Without the species, their ecosystem would be extremely different or not exist. Elephants help to share their environments in many ways. In particular, they are important during the dry season, as they dig up dry riverbeds with their tusks. This allows water holes to be created where other species can drink from. Elephant dung is also full of seeds which have passed through their digestive system. These seeds spread far and wide as the Elephant travels which also helps plants travel across habitats. Find out more about Elephants here.
How can I support Saving The Survivors?
Please consider supporting our work to help protect Africa's vulnerable wildlife. With your help, we can carry out more great work like this. You can become a monthly or one-off donor here.