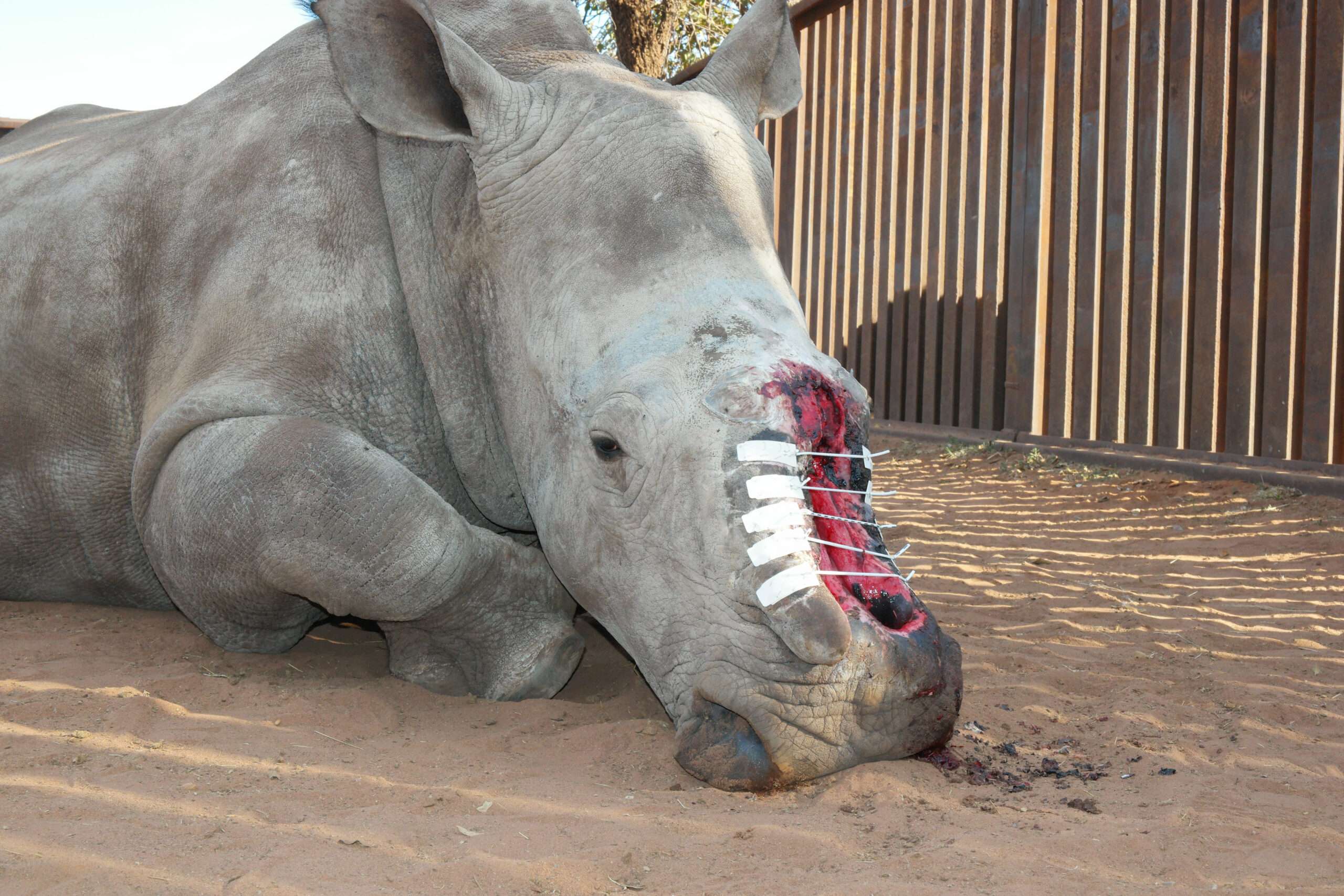 Category: Southern White Rhino
Rhino poaching in South Africa: Hope gets her face back
Hope the Rhino's journey from her poaching trauma so far…
This courageous Rhino who was found almost eight months ago, and the marred vestiges of her trauma are still clearly seen. She is one of the many Rhino who fall victim to poaching in South Africa.
Like many others, she is an innocent victim of poaching who suffered from the brutal hacking off of her horn. The ordeal not only left her hornless, but also missing half of her face. We, just like countless others from all around the world, have invested hope into this Rhino. We hope that she will make a full recovery and go on to lead a full and happy life back in the wild. Therefore, it is only fitting that we name the Rhino "Hope".
The merciless poachers who targeted hope and took her horn will likely sell it for top dollar in a market. In many Asian markets, Rhino horns are of high demand, leading to high rates of poaching to feed the demand. In traditional medicinal markets, Rhino horns have superstitions of healing powers, as well as offering high status symbols. This is despite Rhino horns consisting of keratin, the same material as our finger nails.
Since her attack, Hope the Rhino has undergone countless surgeries to tame the festering wound left by her attackers. At times it seemed she wouldn't make it…
But, our Rhino named Hope survived against all odds!
How Hope the Rhino is getting her face back…
After Hope the Rhino's poaching incident in South Africa, her health has now stabilised. This means those who rescued her can now focus on finding a way to give her back a life which was once hers.
"The procedures which we preformed on Hope have helped healing her face tremendously so far, however, we are at a crossroads now where we need to use innovative and new technologies to make her look like a real Rhino again. We have big plans for her."
We are going to preform a treatment which is similar to stem cell treatment in human beings. Medical surgeons and biotechnology companies from all over the world are helping to support Hope in her journey to freedom. Helping us to create hope from hurt.
How can I support Saving The Survivors?
Remember that our work is only possible with your support. Please donate to ensure that we are always on hand to tend to Africa's most special species. You can support our work by becoming a monthly or one-off donor. With your help we are able to help every injured animal in need. Please help us to do more great work, and save the Rhino from extinction. Donate here.
You can also support us by following us on social media. Share our stories to give these vulnerable animals a voice. With your help we can raise awareness of the issues these animals face and make a change, creating a more positive future for them. Check out our other supporters views on facebook. Check out our instagram here.
Thank you from all of team Saving The Survivors for supporting our work! Together we can make a real difference. Together we can create hope from hurt…
Saving the Survivors | Creating Hope from Hurt |
#hopefromhurt