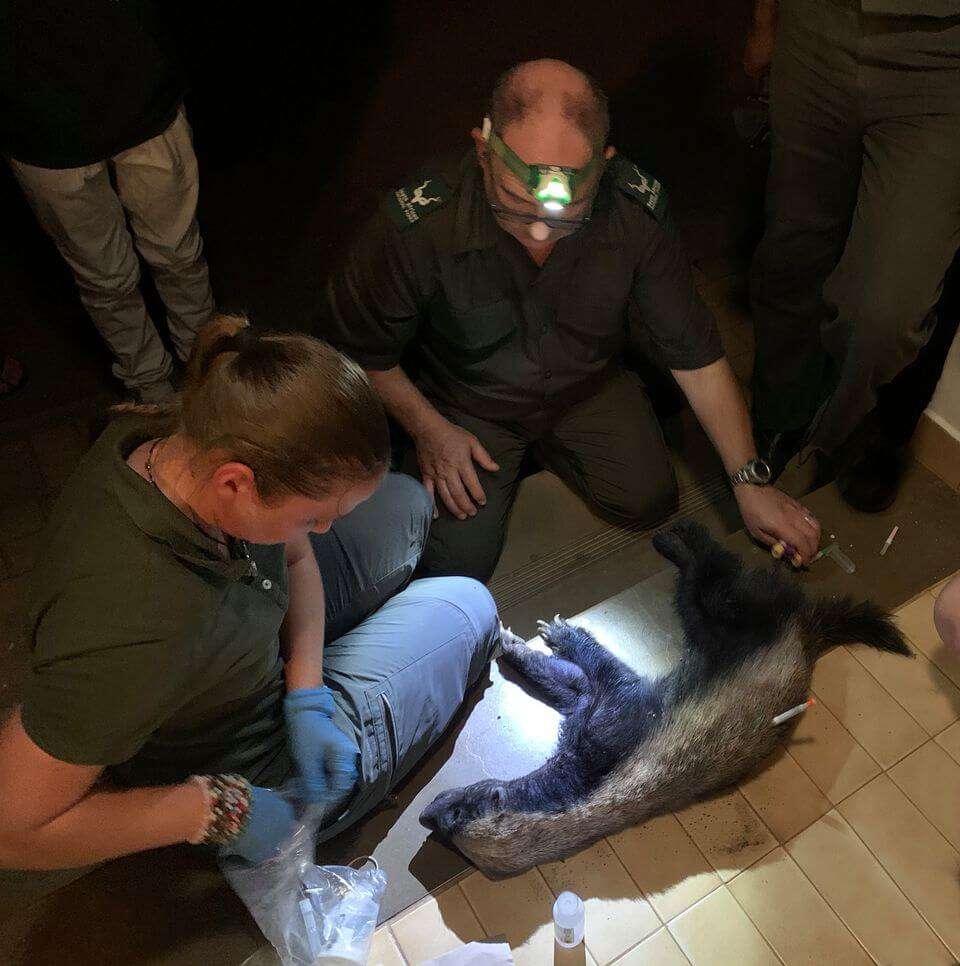 Category: Honey Badger
Tourists find Honey Badger in trouble!
One of the challenges of ecotourism is the over-habituation of wild animals. Wild animals, such as this Honey Badger, are enticed to scavenge for easy meals around lodges, camps and picnic sites. This is due to left over foods being thrown away, or food being stored in fridges by tourists. These easy meals are not healthy for wild animals, especially when there is a risk of choking on plastic and foil packaging.
There are many strategies in place to reduce the impact of humans on wildlife in these places. However, animals have an incredible capacity to adapt in order to get what they want. This includes heavy rubbish bin lids, and locks and chains which work at first. But, these challenges are soon overcome, due to the ingenuity and intelligence of these amazing creatures!
Our South African STS team were recently working at one of the rest camps in a National Park when they received information from a tourist about a wild animal near their hut. The team responded quickly, darting the honey badger and removing it safely from the camp. We would like to thank the vigilant tourists for reporting the badger and ultimately preventing this animal or humans from getting injured.

What are honey badgers like?
Honey Badgers are amazing diggers! Whether that is to capture burrowing prey or to dig themselves a place to rest or hide, they can excavate a hole in minutes! But they are best known for being the most fearless of all wild animals, with their powerful teeth and claws, coupled with their thick skin and high intelligence, make them a match for anyone who crosses their path. And they're not picky eaters, they are omnivores and will eat literally anything!

 How to support our work
Our work is only possible with your support, please donate  to keep our teams protecting Wildlife, saving the survivors of poaching and creating hope from hurt. You can support our work by becoming a monthly or one off donor. Donate here.
You can also support us by following us on social media. Share our stories to give these vulnerable animals a voice. With your help we can raise awareness of the issues these animals face and make a change. Check out our other supporters views on facebook. Check out our instagram here.
Thank you from all of team Saving The Survivors for your support!